FNF Trickster Trouble Mod
FNF Trickster Trouble
FNF Trickster Trouble is FNF Mod based on the two dragon shaped brothers which are stealing something from music store. In this Trickster Trouble FNF Mod, You will play week "$" which is Normal speed mode mod and easy to play. This FNF Trickster Trouble Mod takes place in the Happy Tree Friends universe.
Ratty and Batsy go shopping for new music equipment at the music store, until they notice Lifty and Shifty try to steal some stuff. it's up to them to stop the raccoon brothers from getting away with the heist. You might also like FNF Realistic Mania and FNF Spongebob Road Rage Recreation
How to Play?
You can use WASD or Arrow Keys to play Trickster Trouble FNF Online Mod on your Computer. You have to press the keys as notes reach the judgment line. You can Start or Pause the Trickster Trouble Mod using Enter key.
Game Controls
Arrow Keys or WASD
Space and Enter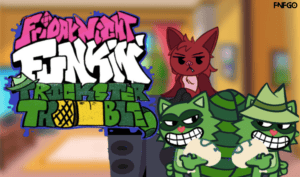 <! --- Game Content ---->