FNF vs Tobias Mod
FNF vs Tobias
FNF Tobias is another addition to Friday Night Funkin game. This Tobias FNF Mod featuring a Tobias cartoon character who is student in Miss Simian's class at Elmore Junior High. The mod is taken from the "The Amazing World Of Gumball" series. Tobias Unblocked online mod have only Normal difficulty which is very to play. In This FNF Tobias Mod, Boyfriend had to rap-battle against Tobias Wilson, the jock from "The Amazing world of Gumball" that want to steal Girlfriend. You must play FNF Darwi Online Mod which is also taken from TAWOG and FNF Ray The Battery.
Who is Tobias?
Tobias Wilson is a supporting character in The Amazing World of Gumball. He is a student in Miss Simian's class at Elmore Junior High. Penny is the girlfriend of Tobias. Tobias and Penny dancing in "The Butterfly. Tobias is more confident in his abilities to court girls. Tobias also seems to be quite the womanizer. He is very quick to make moves on every girl he sees.
How to Play?
You can use WASD or Arrow Keys to play Tobias FNF Online Mod on your Computer. You have to press the keys as notes reach the judgment line. You can Start or Pause the Tobias Mod using Enter key.
Game Controls
Arrow Keys or WASD
Space and Enter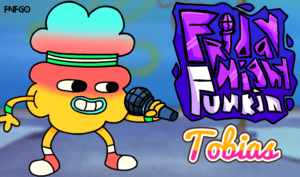 <! --- Game Content ---->