FNF Sanic Funkin Mod
FNF Sanic Funkin
FNF Sanic Funkin is FNF Mod based on the Friday Night Funkin game created by Voll with the help of talented folks. This Sanic Funkin FNF Mod have two different series "Sanic and Taels" which are high speed series and you have to play it carefully. In This FNF Sanic Funkin Mod, boyfriend rap-battle against a meme version of Sonic, called Sanic. You might also like FNF Vesania Song, but Everyone Sing It and FNF Yet Another Tord
How to Play FNF Sanic Funkin?
From the main menu you need to choose Free Play and story mode, in both cases you have to give your best to reach the end of the song to win.
You can use WASD or Arrow Keys to play Sanic Funkin FNF Online Mod on your Computer. You have to press the keys as notes reach the judgment line. Don't miss your notes too many times in a row, because if your health bar depletes, you will lose. You can Start or Pause the Sanic Funkin Mod using Enter key.
Songs:
Which Keys are Used to Play FNF Mods?
Game Controls
Arrow Keys or WASD
Space and Enter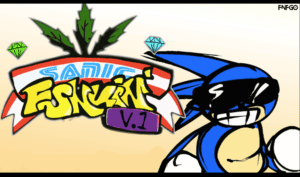 <! --- Game Content ---->