FNF Funk Tapes Mod
FNF Funk Tapes
"FNF Funk Tapes" is a vibrant and captivating musical project that combines the world of rhythm-based gaming with the infectious energy of funk music. Drawing inspiration from the popular indie game "Friday Night Funkin'," the FNF Funk Tapes have taken the gaming and music communities by storm.
FNF Funk Tapes online mod is taken from the popular series "Amanda The Adventurer" and have two amazing songs. Currently the Funk Tapes FNF Mod have only hard difficulty speed mode which is little bit difficult to play so you have to play it carefully but in future we can expect Normal speed mode with more songs and weeks. You might also like FNF Bacon Breakfast In Friday and FNF Blourple Guy
How to Play?
You can use WASD or Arrow Keys to play Funk Tapes FNF Online Mod on your Computer. You have to press the keys as notes reach the judgment line. You can Start or Pause the Funk Tapes Unblocked Mod using Enter key.
Game Controls
Arrow Keys or WASD
Space and Enter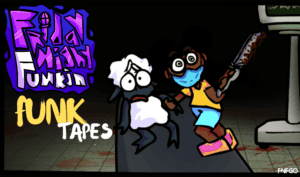 <! --- Game Content ---->