FNF vs Rainbow Friends Mod
FNF vs Rainbow Friends
FNF Vs Rainbow Friends is one of the most popular FNF Mod based on the Friday Night Funkin game. In Rainbow Friends FNF Mod, you play as an unnamed child who has been kidnapped during a school trip to an amusement park called Odd World.From the moment when you captured, you have to survive five nights in the strange location that's entirely empty of life except for you and the Rainbow Friends. This Rainbow Friends FNF Mod is a little bit difficult so you can play it on Easy mode. In This FNF Rainbow Friends Mod, where Boyfriend faces-off against Blue, Green, and many more. Singing to a single song called "Friends to the End". Rainbow Friends is a Roblox mini-game where The Players were supposed to go on a normal field trip but are trapped inside a Lab. You might also like FNF Vs Trepidation and FNF Encounter Z-Sharp Remix
How to Play Rainbow Friends FNF?
In Rainbow Friends FNF mod, You will meet blue friend. Blue is the most threatening of all the Rainbow Friends as they're always patrolling the area looking for lost children. You will rap battle against him. To do so, You have to click on the same arrow button which is coming from down. Be careful because these arrows are very fast, you have to keep attention on these arrows. If you miss any of these arrows then your power of survive will be decreased. In this FNF Rainbow Friends, the last survival will be a winner.
Game Controls
You can use WASD or Arrow Keys to play Vs Rainbow Friends FNF Online Mod on your Computer. You have to press the keys as notes reach the judgment line. You can Start or Pause the Vs Rainbow Friends Mod using Enter key.
FNF Rainbow Friends Characters:
Here are some screenshoots we have taken from the game.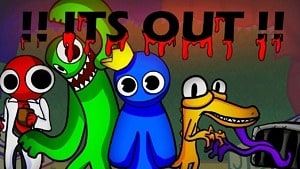 FAQ:
Can i play Rainbow Friends FNF online?
Yes, You can easily play FNF Rainbow Friends by clicking Here
Can i play Rainbow Friends on Mobile Phone or Tablet?
No, This is Not a Mobile or Tablet compatible game, It can only be played on a computer.
Can i Download Rainbow Friends FNF?
No, You can only play online.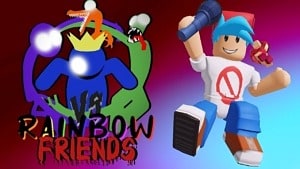 <! --- Game Content ---->