FNF MrBeast Meme Mod
FNF MrBeast Meme
FNF MrBeast Meme is one of the most popular FNF Mod based on the Friday Night Funkin game created by Fah_Artist. This FNF MrBeast Meme FNF Mod have one series "BEAST" which is Normal difficulty mod and easy to play so you can play it easily without much experience. In This FNF MrBeast Meme Mod, you rap-battle against a meme version of MrBeast. You might also like FNF Can You? (Pibby Pocoyo) and FNF Bumopostor
How to Play FNF MrBeast Meme?
From the main menu you have to decide Free Play or Story Mode. In both cases, you have to reach at the end of the song to win from your opponent. There are four songs in this mod.
Songs:
Lucrative
Billionaires
Beastality
Beast Appear
You can use WASD or Arrow Keys to play FNF MrBeast Meme FNF Online Mod on your Computer. You have to press the keys as notes reach the judgment line. You can Start or Pause the MrBeast Meme Mod using Enter key.
Game Controls
Arrow Keys or WASD
Space and Enter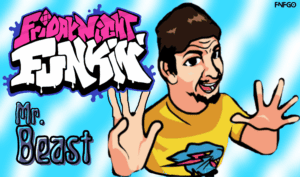 <! --- Game Content ---->